Local start-up partners Sentosa to launch novel lactation pods, enhancing the island's family-friendliness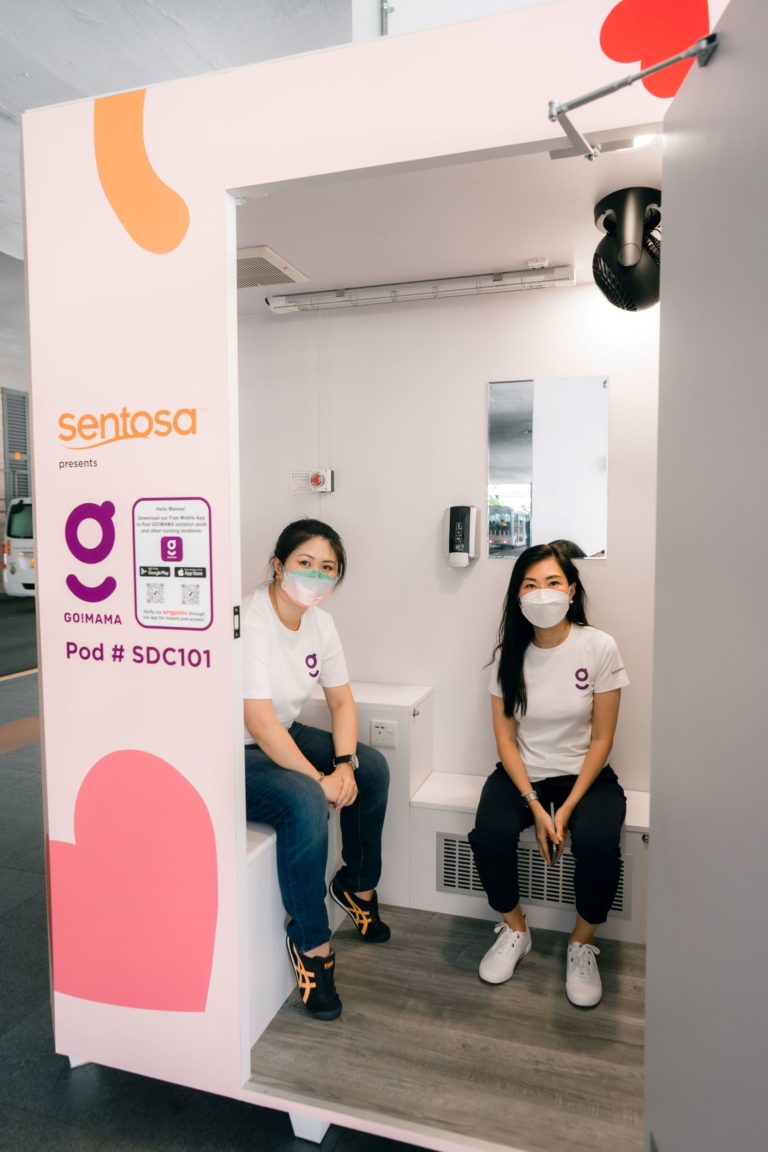 Singapore, 8 December 2021 – Singapore start-up company, Go!Mama has partnered with Sentosa Development Corporation (SDC) on a six-month pilot trial of its novel lactation pods across Sentosa island. This is the first time that Go!Mama is publicly launching its lactation pods, and these will enhance Sentosa's family-friendly nature, and make the island resort more accessible to young families looking to spend a fun-filled day out and about. Go!Mama's lactation pods are ready-built, free-standing pods, powered by smart technology, for mums to use when breastfeeding their babies or expressing breast milk. The launch of Go!Mama lactation pods on Sentosa is the latest and seventh innovation project under Sentosa Development Corporation's Sentosa x Enterprise Scheme (SES), supported by the Ministry of Trade and Industry's Pro-Enterprise Panel. For more information on the SES innovation projects, please see Sentosa Development Corporation's media release [https://www.sentosa.gov.sg/files/resources/news/20211208_Media_release_Sentosa_Enterprise_Scheme.pdf] .
"Breastfeeding is a natural and amazing way for mothers to nourish, immunise and bond with their babies. We aim to provide practical environmental support for breastfeeding mums, to make breastfeeding less stressful and more manageable. Our Go!Mama lactation pods are designed to be solely dedicated for lactation purposes, providing mums with a clean, private and safe environment to breastfeed or express their breastmilk – whether they are working in a corporate office, at a busy shopping mall or out for a day at the beach," said Vivian Lee, Co-Founder & CEO Go!Mama.
Designed by mothers for mothers
Go!Mama lactation pods were developed by co-founders, Vivian Lee and Eunice Lim, both mothers themselves who struggled in their breastfeeding journey. They examined the challenges they faced, as well as interviewed several breastfeeding mothers to design and develop the Go!Mama lactation pods. These pods have the following features:
• Mobile, free-standing units – Go!Mama pods are a design solution for every space, with plug and play specifications that allow operators to implement the pods in a hassle-free manner, requiring only a power point for electricity. This is ideal for operators who are not able to build a lactation room within the location. During this pilot trial on Sentosa, five pods will be located across the island: two at Sentosa Express (Resorts World Station), and 1 each at Beach Station bus interchange, Siloso Beach and Palawan Beach. The mobility of the pods means they can be moved easily to different locations, should one location have low traffic.
• Secured Access – This ensures that Go!Mama pods are rightfully used by lactating mothers when needed, with reduced risk of abuse. Users gain access to the Go!Mama pods, via a pin number, which is only provided after their profile has been verified through Singpass.
• Easy cleaning and disinfection – All interior fittings (seats, worktop and floors) within Go!Mama lactation pods are non-upholstered and designed for easy cleaning. During the pilot trial on Sentosa, cleaning staff will conduct routine cleaning of Go!Mama's lactation pods. In addition, a UV disinfecting process is triggered after every use, to prevent cross-contamination of viruses or bacteria. This ensures the Go!Mama lactation pods are a safe and hygienic environment for mothers and babies.
• Go!Mama mobile app – This free-to-download mobile app (available in the App Store for iOS systems or Google Play Store for Android systems) allows mothers to locate, check occupancy and gain secure access to Go!Mama lactation pods. The app creates a smart platform to make it easier for mothers to navigate to the nearest pod, verify that it's available for use (or if occupied, when it would be available) and enter the pod with an access pin. The app also provides a comprehensive list of all lactation spaces in Singapore.
"I enjoy coming to Sentosa with my family, including my 1-year old baby. However, it can be a hassle dragging everyone around, looking for a place to breastfeed or express my breast milk. Normally, I would resort to breastfeeding in public, with a cover over the baby. However, as this is usually in full view of others, it can be a bit uncomfortable. I found the Go!Mama pods ideal for breastfeeding. They were clean, secured and spacious. I like how easy it is to check availability of the pod, because when you have a hungry baby, it's not fun to queue and wait for 20-30 minutes. In addition, the USB charger within the lactation pod allowed me to recharge my electric breast pump for the next use, which is ideal because the next time I need to use it, I may not be in close proximity to a Go!Mama pod," said one of the pioneering users, Lee Hui Yu Finnley.
Go!Mama's entrepreneurial journey
The idea for Go!Mama's lactation pods came from the personal challenges that Vivian Lee and Eunice Lim both faced while breastfeeding their children. In order to explore developing a solution, in January 2021, Vivian Lee left her job and participated in the NUS Venture Building programme. This is a three-month programme by NUS Enterprise, the entrepreneurial arm of the National University of Singapore, and supported by Enterprise SG (ESG), to help aspiring new entrepreneurs get their feet off the ground. At the end of the programme, Go!Mama received the Startup SG Founder grant comprising $50,000 from ESG and $10,000 from NUS Enterprise as the Accredited Mentor Partner.
Spurred by this success, Eunice Lim joined Vivian full-time and they co-founded Go!Mama in March 2021. They spent the first few months focusing on product development and worked with a local manufacturer to build a prototype, leveraging available makerspace at Republic Polytechnic. This prototype was tested and improved upon to result in the current Go!Mama lactation pods being field tested on Sentosa. By mid-2021, Go!Mama was supported by the Ministry of Trade and Industry, under the Pro-Enterprise Panel's First Mover Framework and New idea Scheme, which helps innovative entrepreneurs to implement their ideas. Go!Mama is supported by NUS Enterprise and incubates at BLOCK71 Singapore.
"This launch of our Go!Mama lactation pods on Sentosa is the first time such a product is being made available to the public in Singapore. And while this is exciting, we faced a few uphill challenges, as we are in unchartered waters. For example, we need to discover and be familiar with the safety standards for such a new product. This means a lot began with some trial and error and we gladly welcomed the help from MTI's Pro-Enterprise Panel, who advised us as our regulatory consultant," explained Vivian Lee, Co-founder and CEO Go!Mama. "Moving forward, we shall be exploring new features in our lactation pods, including air-conditioning for greater user comfort, as well as incorporating solar panels so that they can become a truly free-standing unit, using sustainable energy. Next year, we plan to partner with educational institutions and transport operators, to trial more Go!Mama lactation pods at different locations around Singapore. So do look out for us!"
– END –
For more information on Go!Mama, visit www.gomama.com.sg
Media Contacts:
Chan Yiu Lin
Greener Grass Communications (For NUS Enterprise)
Email: yiulin@greenergrass.com.sg
Mobile: +65 9-765 5897